Autoclaved aerated concrete is extremely strong and durable despite its light weight. AAC's solidity, which comes from the calcium silicate that encloses its millions of air pores and from the process of curing in a pressurised steam chamber, an autoclave. Its excellent mechanical properties makes it the construction material of choice for earthquake zones.
The product's light weight ensures that the foundations of a building are lightly loaded, yet it is strong enough to bear several floors. It retains its properties for the entire life of a building without ageing. AAC resists wind, rain and storm and does not decay or rot. In general, changing outside temperatures cannot damage AAC. Its very limited shrinkage and thermal expansion prevent the formation of cracks in masonry.
AAC also has excellent resistance to chemicals and pollutants and, due to its alkaline nature, can withstand acid rain.
Do you want to become a member of EAACA? Contact us!
Following various media reports on the subject of RAAC in the UK, we as a European association would like to comment on this. Please find
Read More »
20 participants from Europe and Asia met for the 64th meeting of the Executive Committee of the European Autoclaved Aerated Concrete Association (eaaca) at Xella
Read More »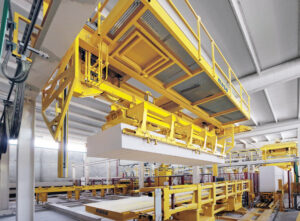 We are pleased to welcome two new members to our ranks. MASA GmbH from Germany is a company with roots in Germany, specializing in the
Read More »