High resource efficiency, low environmental impact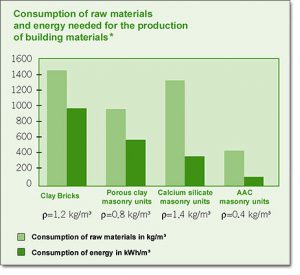 Autoclaved aerated concrete's high resource efficiency gives it low environmental impact in all phases of its life cycle, from processing of raw materials to the disposal of AAC waste.
Raw materials
AAC is made from naturally occurring materials that are found in abundance – lime, fine sand, other siliceous materials, water and a small amount of aluminium powder (manufactured from a by-product of aluminium) – plus cement.
Production
Thanks to continuous efficiency improvements, production of AAC demands relatively small amounts of raw materials per m3 of product, and up to a fifth as much as other construction products. No raw materials are wasted in the production process and all production offcuts are fed back into the production circuit. The small amount of surplus material left over after curing is ground and recovered for other uses.
The manufacture of AAC requires less energy than for all other masonry products, thereby reducing use of fossil fuels and associated emissions of carbon dioxide (CO2). Energy is also saved in the curing process since steam curing is carried out at relatively low temperatures and the hot steam generated in the autoclaves is reused for subsequent batches. Industrial-quality water is used and neither water nor steam are released into the environment. No toxic gases are created in the production process.
Transportation
AAC's light weight also saves energy in transportation. The fact that AAC is up to five times lighter than concrete and two to three times lighter than clay brick leads to significant reductions in CO2 emissions during transport. To reduce the need for transportation, AAC manufacturers apply the principle of producing as near to their consumer market as possible.
Use
AAC's excellent thermal efficiency makes a major contribution to environmental protection by sharply reducing the need for space heating and cooling in buildings (see Great Energy Efficiency fact sheet for further details).
In addition, AAC's easy workability allows accurate cutting that minimises the generation of solid waste during use. Unlike other building materials AAC does not need to be used in combination with insulation products, which increase the environmental impact and cost of construction.
Reuse, recovery and disposal
Throughout the life cycle of AAC, potential waste is reused or recycled wherever possible to minimise final disposal in landfill.
AAC manufacturers have taken on a voluntary commitment to recover separated and sorted AAC waste from construction and demolition sites for recycling and reuse. Where AAC waste is sent to landfill, its environmental impact is minor since it contains no toxic substances.
Do you want to become a member of EAACA? Contact us!
Following various media reports on the subject of RAAC in the UK, we as a European association would like to comment on this. Please find
Read More »
20 participants from Europe and Asia met for the 64th meeting of the Executive Committee of the European Autoclaved Aerated Concrete Association (eaaca) at Xella
Read More »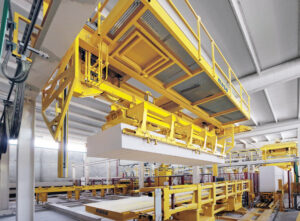 We are pleased to welcome two new members to our ranks. MASA GmbH from Germany is a company with roots in Germany, specializing in the
Read More »