High energy efficiency is one of the determining characteristics of autoclaved aerated concrete. AAC's cellular structure gives it a thermal efficiency 10 times higher than that of aggregate concrete and two to three times better than clay brick. Consequently, buildings made of AAC are warm in winter and cool in summer.
With buildings accounting for 40% of the EU's energy requirements, greater use of AAC, both in construction and renovation, offers an immediate solution to cutting the energy consumption of residential and non-residential buildings across Europe.
AAC's excellent inherent thermal insulation properties not only reduce the need for space heating and cooling, thereby cutting carbon dioxide emissions and combating climate change, but also make the use of additional insulation materials unnecessary. EU insulation requirements can be met by using AAC alone. By contrast, aggregate concrete, clay brick and calcium silicate masonry units need to be used in combination with insulation products, thereby adding to their cost and environmental impact.
AAC is energy-efficient over its whole life cycle. Its production requires less energy than other construction materials and its light weight saves energy in transportation. A fuller summary of AAC's life cycle impacts can be found in the High Resource Efficiency, Low Environmental Impact fact sheet.
Manufacturers of AAC have been instrumental in developing houses with low or very low energy needs. Currently, a German house is considered to be low-energy if its heating requirements are 25% less than national thermal insulation regulations require.
But AAC manufacturers are already preparing to take energy saving much further by laying the foundations for the construction of so-called passive houses.
Through optimisation of their building shells, solar energy and ventilation systems, passive houses need as little as half as much heat as low energy houses.
Do you want to become a member of EAACA? Contact us!
Following various media reports on the subject of RAAC in the UK, we as a European association would like to comment on this. Please find
Read More »
20 participants from Europe and Asia met for the 64th meeting of the Executive Committee of the European Autoclaved Aerated Concrete Association (eaaca) at Xella
Read More »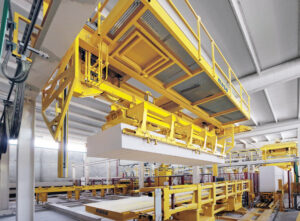 We are pleased to welcome two new members to our ranks. MASA GmbH from Germany is a company with roots in Germany, specializing in the
Read More »