Autoclaved aerated concrete (AAC) was invented in the mid-1920s. AAC was perfected in the mid-1920s by the Swedish architect and inventor Dr. Johan Axel Eriksson. The process was patented in 1924. In 1929, production started in Sweden at the city of Yxhult. 
Today aerated concrete is produced in many companies, particularly in Europe and Asia.
The product aircrete is sold, like other masonry materials, under many different brand names. Ytong and Hebel are brands of the international operating company Xella headquartered in Duisburg. Other more internationally renowned brand names in Europe are H+H (Denmark), or Solbet (Poland).
The rapidly growing acceptance of the material is closely linked with dimensional accuracy at the time and could by used to construct an almost seamless wall using thin-bed mortar. It permanently and fundamentally changed traditional masonry techniques.)
Do you want to become a member of EAACA? Contact us!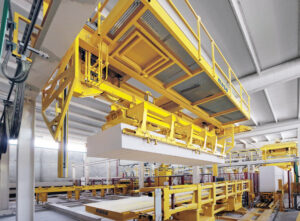 We are pleased to welcome two new members to our ranks. MASA GmbH from Germany is a company with roots in Germany, specializing in the
Read More »
The EAACA defined a decarbonisation roadmap for Autoclaved Aerated Concrete (AAC) products. This roadmap sets out a pathway for Autoclaved Aerated Concrete (AAC) products to
Read More »
Aerated concrete can not only ensure more efficient use of energy in buildings, but also serves as a CO2 reservoir as it ages by binding
Read More »