Excellent fire and heat resistance
Autoclaved aerated concrete provides the highest security against fire and meets the most stringent fire safety requirements. Due to its purely mineral composition, AAC is classified as a non-combustible building material. It is both resistant to fire up to 1200°C and, unlike other construction materials, heat-resistant.
AAC can thus be used as a fire wall to prevent fire from spreading, thereby protecting lives and economic assets. In principle a fire wall should last up to four hours but tests have shown that an AAC fire wall just 150 mm thick can resist at least for six hours. In a real blaze, an AAC fire wall even survived intact for 120 hours.
Small wonder, then, that AAC is used in fire safety tests as a building material for kilns to measure the fire resistance properties of other construction products. Or that some insurance companies offer reductions in fire premiums for buildings equipped with AAC fire walls.
In addition to internal fire walls, constructing outer walls of AAC contributes significantly to fire safety since most blazes start outside buildings.
Besides being fire- and heat-resistant, AAC does not give off any smoke or toxic gases, which can endanger human life more than fire itself.
AAC manufacturers make it their business to collaborate closely with researchers, architects, fire departments and insurance companies in order to maximise AAC's contribution to fire safety.
Do you want to become a member of EAACA? Contact us!
Following various media reports on the subject of RAAC in the UK, we as a European association would like to comment on this. Please find
Read More »
20 participants from Europe and Asia met for the 64th meeting of the Executive Committee of the European Autoclaved Aerated Concrete Association (eaaca) at Xella
Read More »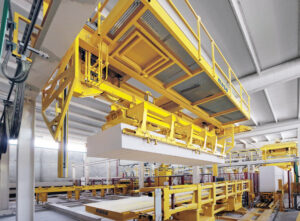 We are pleased to welcome two new members to our ranks. MASA GmbH from Germany is a company with roots in Germany, specializing in the
Read More »