Autoclaved aerated concrete
AAC stands for highly efficient thermal insulation, optimal fire protection, and masonry with excellent load-bearing abilities. Lime, sand, cement, and water – mineral and natural raw materials – form the main ingredients of AAC. A large amount of closed cells with stagnant air give the panels and blocks unique properties and processing advantages. This allows to build fast, flexible and affordable. and the products can therefore be used in a diverse range of applications for both new construction and renovation projects.
Large-format prefabricated AAC panels are used in large-scale business construction projects, such as logistics centers, warehouses, and production facilities, as well as event centers and sports halls.
For house construction, commercial and industrial buildings
AAC is not only used to construct inner leaves of cavity walls and partitioning walls but also internal, external and fire walls in both load-bearing and non load-bearing designs. AAC therefore is known as being efficient for both house construction and for commercial and industrial buildings.



High construction speed
In addition to its versatility, AAC blocks or panels are characterised by its ease of working and construction. This results in a relatively high construction speed which can deliver cost savings, particularly in high-volume projects.
Labour-friendly product
The material and product properties make AAC suitable for both new-build projects and for renovation works. The light weight and the ease of construction especially play an important role in the field of renovation.
Do you want to become a member of EAACA? Contact us!
Following various media reports on the subject of RAAC in the UK, we as a European association would like to comment on this. Please find
Read More »
20 participants from Europe and Asia met for the 64th meeting of the Executive Committee of the European Autoclaved Aerated Concrete Association (eaaca) at Xella
Read More »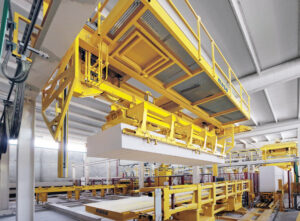 We are pleased to welcome two new members to our ranks. MASA GmbH from Germany is a company with roots in Germany, specializing in the
Read More »